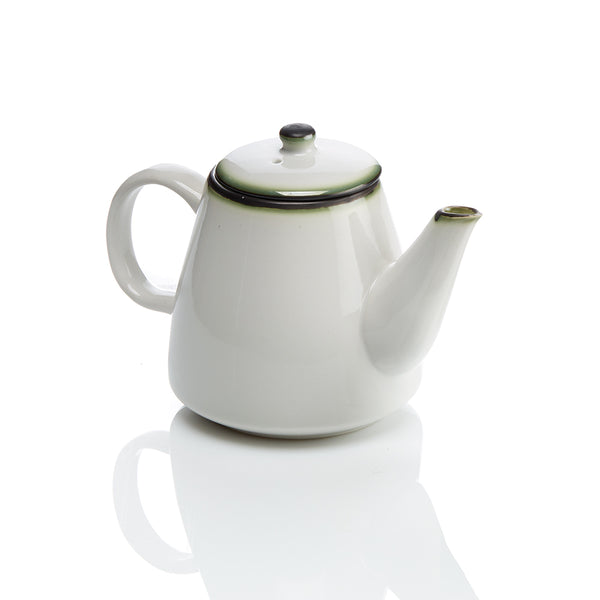 Modern Line Infuser Tea Pot
A clean, modern design with just a hint of antiquity. This striking ceramic teapot is glossy white with a contrasting, antique-inspired bronze rim, from the ancient village of Bat Trang, famous for its centuries-old tradition of creating fine ceramics. Dishwasher and microwave safe. Includes teapot, lid, and tea infuser. Holds 36 oz. 8 1/2"l x 5"w x 6"h
We also offer a modern line vase in the same style:
https://sojournsfairtrade.com/collections/home-decor/products/modern-line-vase
6 Simple Steeping Steps for Loose Leaf Tea
Boil water to the specific temperature for the tea type*

Scoop 1 tsp of leaves per 1 cup of water (250 ml) into an infuser
Put infuser in mug

 or tea pot 

and pour in boiled water 
Steep for the specific time for the tea type. Typically teas steep for 3-5 minutes.
Remove the infuser from your mug and enjoy your tea. But don't compost the steeped leaves from the infuser just yet! Since JusTea only uses whole leaf tea, you can save those leaves to resteep a second delicious cup!
To resteep, follow the same steps above but double the steeping time.
* If you don't have a temperature controlled kettle, then just boil the water and let it sit and cool for about 3 minutes for an oolong, and 6 minutes for a purple or green tea. Black/Herbal tea can be poured right when the water boils.
Need loose leaf tea? Check out Justea: https://sojournsfairtrade.com/collections/food/products/justea-loose-leaf-tea