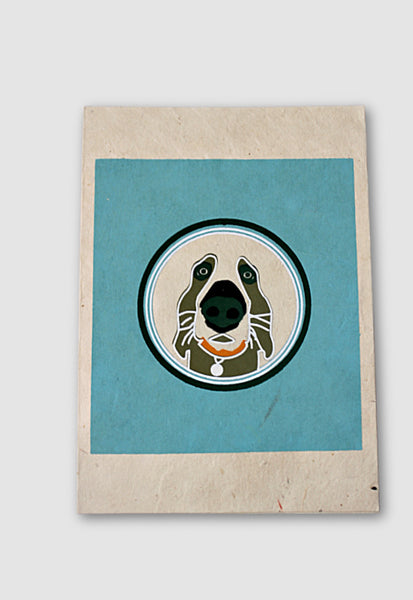 Lokta Card Set - Dog
In the heart of the Himalayas, Nepali craftspeople have been producing handmade paper for over a thousand years. Prized for its durability, soft texture, and natural color,  Lokta paper is an environmentally friendly, tree-free paper made from the bark of the regenerating Daphne bush.
Originally used in Tibetan monasteries for sacred texts, the making of Lokta paper is a village tradition dating back thousands of years. The paper is naturally insect free and will last more than 100 years. This paper is sourced directly from the paper producers in the Baglung area of Nepal and handcrafted with skill by women of Bhaktapur Women's Craft Paper. 
Cards measure 4.5″ x 6″ with envelopes included. Card with face of a dog over blue background, blank inside, set of six cards.