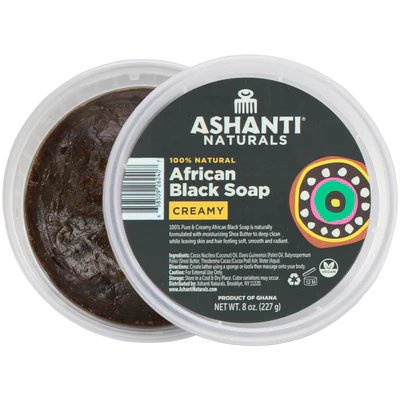 Creamy African Black Soap 8oz
00% African Black Soap with Moisturizing Shea Butter is a deep cleanser that will not dry out your skin. Due to its shea butter content, the more you use Ashanti's Black Soap, the softer your skin will become. African black soap is believed to have many benefits. It is believed to help relieve rashes, scalp irritations and treat oily skin, dry skin, acne and skin blemishes. Black soap leaves your body, hands and face feeling fresh, clean and healthy.
For use in the shower. Create a thick lather using a loofa or other soaper, and wash your body. Enjoy all the benefits of Black soap in a convenient, great smelling soap.
Cocoa Pod Powder (Theobroma Cacao), Plantain Peel Powder (Plantago Major), Coconut Oil (Cocos Nucifera), Shea Butter (Butyrospermum Parkii), Water (Aqua), Palm Oil (Elaeis Guineensis)